Fall Semester REGISTRATION OPEN
Classes start

Monday, August 21
CODAS – ADVANCE / ADULT CLASS
All classes run through Thursday, December 12
Codas MONDAYS 6:30 to 8pm
$170 ADULTS Codas
We do our best to keep costs affordable for all.
Financial Aid is available based on need.
The sanctuary at Christian Community Church.
Fall Registration is Open
Codas is an extension of the Homer Youth String Orchestra Club.
This group started out as a parent group that wanted to experience first-hand what it is like to learn a string instrument so they could be more involved in their child's music education.
It has now evolved to an adult group for individuals wanting to refresh or further their skills. You do not need to have a child in HYSOC to begin your practice with this group. It is open to any adult who plays an orchestral string instrument and wishes to add a new dimension to their practice by playing with others.
We are playing at about the level of Suzuki Book 2, and you would need to read music. It is especially designed for those who played as children and wish to resume playing, or those who have begun private lessons and wish to join an ensemble.
Join OPUS for some holiday cheer at the Nutcracker Faire. Playing on the commons stage
A FREE Halloween concert featuring OPUS youth and adult musicians. Islands and Ocean Visitor Center.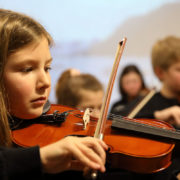 We have an exciting season ahead of us and are looking forward to seeing everyone